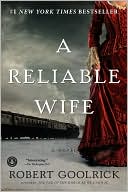 He placed a notice in a Chicago paper, an advertisement for "a reliable wife." She responded, saying that she was "a simple, honest woman." She was, of course, anything but honest, and the only simple thing about her was her single-minded determination to marry this man and then kill him, slowly and carefully, leaving her a wealthy widow, able to take care of the one she truly loved.

What Catherine Land did not realize was that the enigmatic and lonely Ralph Truitt had a plan of his own. And what neither anticipated was that they would fall so completely in love.
The cool thing about this book is that I never saw any of the twists coming, even though a lot of other people probably did and I'm just slow. I never quite knew which if any character's side I was on until the end, or if they were all irredeemable. I enjoyed the early 20th century setting, too. One issue I have is with the very end of the book, which I won't spoil for you, but if you've read it comment! :D Overall, I liked it.