This book is like a fanfic, with Obi-Wan tragically angst-ridden and on the brink of death for...uh...yeah, the whole book. *g* I like it. Plus if you're of the OW/Bail persuasion, it's all over that action. I'm reading the series backwards, which means things are just now starting to make sense O_o
And this baby comes out tomorrow: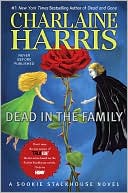 Unfortunately I have to be in the lab all day, but I will be reading in the dark with my little desk lamp, in between poking the rats.